Welcome to the first Minisode of the BlueBird Podcast.
Did you know that at any given night over 6000 young Canadians have no place to sleep?
Earlier this year we observed first hand how easily young people can slip into homelessness and how little the Ministry of Children & Families can do to prevent this. We also had the opportunity to witness the wonderful work our local Boys and Girls Club does to fill this gap.
We were very impressed by how this organization helps fill the gap between struggling families and government services.
The Boys & Girls Clubs of Canada rely on donations from the public to finance all the work they do. For the month of June, The Home Depot is organizing the "Orange Door Project" where customers can make a donation at the checkout and 100% of these donations go to local Boys & Girls Clubs.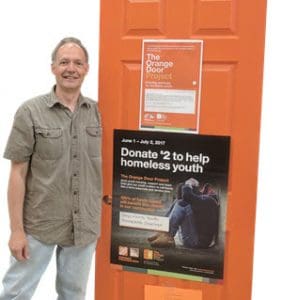 I have decided to support this initiative by donating $10 of any consulting hour booked in June to our local Orange Door Project.
To launch this program I have created new service packages I call  "pick my brain" sessions designed to help you improve your social media and content marketing efforts.
Over the last seven years, I have helped many small business owners, organizations, and individuals to be more effective with their social media and content marketing efforts.
I help create social media strategies, provide outsourced community management services and coach groups and individuals to use Facebook, Twitter, Instagram, their blog and other tools effectively.
Often I get asked to meet people for coffee or to set up a one-off session to discuss the overall strategy or help a business improve a particular area of their online marketing.
To make it easier to do this I have set up a simple booking tool that you can find on my website.
You can simply pick a time that works for you and I will send you a link. We then meet face to face using our computers and I will send you a recording of our call afterward.
Topics we could discuss are for example:
Strategies on how to connect with your customers online
Facebook pages
Facebook Ads
Instagram
Twitter
Email Marketing
Using WordPress
Blogging
Search Engine Optimization
Creating videos or effective images
To kick this off I will donate $10 from every pick my brain session booked in June to fight youth homelessness.
I'm looking forward to helping you!
Oh hey, one more thing – if you are signed up to my email list you can get one of my short sessions for free!
I invite you to listen to the podcast and tell me what you think in the comments or by email: [email protected] .
Listen Now
Links Mentioned
There are three ways for you to get involved:
Book a consulting or training session with me. Simply go to the "Pick My Brain" page on my website and find a time that works with your schedule. I will donate $10 from every hour booked to the Orange Door Project
Donate directly to the campaign at Canada Helps https://www.canadahelps.org/dn/30658 (please select the Kelowna store)
Go to your local Home Depot and buy an Orange Door at the checkout
Thank you for helping me to give young people a safe place!
Frithjof